These are a few of those tried and true favorite tools of mine that have made my cardmaking so much more easier.  Feel free to leave me a comment if you have any questions about the products I have listed.  You can see a tour of my  craft space, where I go over more of how I keep my supplies organized HERE.  If you are new to cardmaking and need ideas on how to get started, you can see my post HERE.
The following list may contain affiliate links which means if you click on a product link, and make a purchase, I may receive a small commission at no cost to you.  My full disclosure policy and list of shops I am affiliate for can be found HERE.)
On My Desk:
2019 Blog Planning:
I combine my Miss Maker Happy Planner with the Blog Management set from the Etsy shop, Printable Possibility.  I have a blog post on how I plan my crafty week HERE.
The list below contains tools that just make life easier for me when I'm card making.
The phone holder is what I use to film my YouTube videos as well as those great LED lights.  They're small and fit nicely on a desk to add more light for filming.  The light box is great for when I have multiple projects to photograph all at once and don't want shadows.  It's also great for filming at night when I don't have natural light.  It folds up flat and is easy to store.
A must have for wrangling all those metal dies.  My magnet from Spellbinders looks great on the desk and serves a purpose.
The Quick Stik tool is perfect for picking up little embellishments with its sticky side.  The pointy tip is great for moving sequins and other small things right where you want them on your card.
I love my precision tweezers for keeping hold of clear gems as I'm arranging them on a card.  It's also great for buttons and die cuts.
The scissors are my favorite for fussy cutting.  They are non-stick and super sharp.
I've used the Fiskars paper trimmer for years.  It's big enough for large paper and it has a precision wire to make sure you line up your paper perfectly.
I love my grid mat because of the minty color (it comes in pink too) and its size.  It protects my craft desk and the lines come in handy for spacing things on my cards.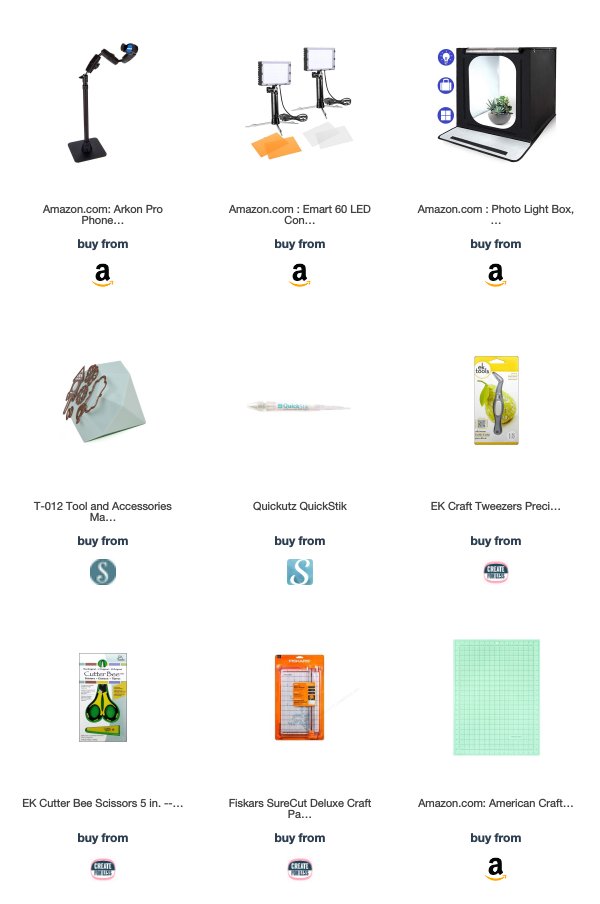 Stamping:
I love my stamp positioners and my MISTI, but sometimes I just need to stamp a sentiment really quick with a regular acrylic block.  The pink foam mat below has a little "give" to it to help get a crisp impression.  I also like that it has gridlines you can line up your block to in order to stamp straight.  Acrylic stamp blocks with grids also help.
I use a black marker to fill in areas my black ink may have missed on a stamp.  It's super handy.
A sanding eraser is great secret weapon for getting rid of small ink smears on your cards.
I find the sponge daubers easier to use when I do ink blending and stenciling.  You get smooth blending with no harsh lines.
My wooden stamps are finally getting used now that I have my Stamp-a-ma-jig tool.  No more crooked stamping!  I have a video on how I use it HERE.
I have a variety of options for cleaning my stamps below.  I like the shammy for quick cleaning of dye ink and the scrubber for Versamark and other pigment inks.  The spray cleaner I like is mild and smells like bubblegum.
Finally, for coloring my stamps, I love Copics, but they do bleed through the cardstock if you're doing a one layer card.  I like to use my Zig brush pens instead because you can blend them like Copics and they don't go through the paper.  They can also work for water coloring if you add little water to your image before coloring.
Adhesive:
I use glue pens for quick adhering when I just need a small line of adhesive on a thin die cut.
For intricate die cuts, Stick It is a really good adhesive.  You just stick a sheet to the bottom of a piece of cardstock, place your die over the top, and run it through your die cutting machine.  Peel off the backing and your die cut has the perfect amount of adhesive on the back.
My favorite tape runner has a really strong adhesive, but is easy to manage.  To change the cartridges, it's as easy as pulling the old one out, and popping a new one in.  No threading is involved.
I use my Creative Station when I want to have an even amount of adhesive on the back of something.  Usually a card panel or die cut.  I use this all the time.
I use many different sizes of glue dots but the micro sized are my most used.  These glue dots are the tiniest and work really well to adhere sequins and small gems.  I keep a roll right on my desk at all times.
I like the 3L Scrapbook Adhesives 3D foam squares because they are not too thick or thin and they come in 2 sizes.