Hi Friends!
Just popping in for a recap of what's been going on in my crafting world over the past month.
My First Craft Show!
As you can see from the picture above, this was my craft desk over the past month.  I was busy!  I participated in a small, local pop-up maker's market last week which was the perfect size to try out the craft show circuit.  You can see more about this adventure plus some helpful tips over at THIS POST.
New Stamp Company Coming Soon…..
I have been keeping up with all the sneak peaks Betsy Veldman has been having for her new stamp company The Greetery, coming April 26.  I have been a fan of Betsy's talent for color and design for many years when she was over at Papertrey Ink.  I can't wait to see her new products!
Happy News!
I recently joined the A Blog Named Hero Facebook Team and couldn't be happier!  I have been a fan of Hero Arts stamps since I first got started in the card making world.  Twice a month, I will be posting projects here on my blog and their Facebook page featuring stamps and supplies from Hero Arts.  This was my first project.  You can find the full post HERE.
Be sure to join in on the monthly challenges over on the A Blog Named Hero website.  This month's challenge is Clean and Simple.  There are great prizes to be won!
Favorite Projects from the Past Month:
Over at the ThinkCrafts by CreateForLess blog, I featured this card inspired by a sketch and fancy blue and white china.
Details can be found at THIS post.
I've been working a lot with products from a new to me company called DoCrafts.  Their Xcut dies are so fun and intricate.  I made this colorful cake recently on the ThinkCrafts blog.
Details can be found at THIS post.
In the Craft Room:
New stamps and dies for spring!  I have a video HERE showing you a close-up of some crafty purchases I made.  You'll be seeing a lot of these in my upcoming blog projects.
—SUPPLIES—
The following list contains affiliate links which means if you click on a product link, and make a purchase, I may receive a small commission at no cost to you.  My full disclosure policy can be found HERE).  Some products are linked to multiple shops.  Click on the logo below each product image to be taken to your preferred shop.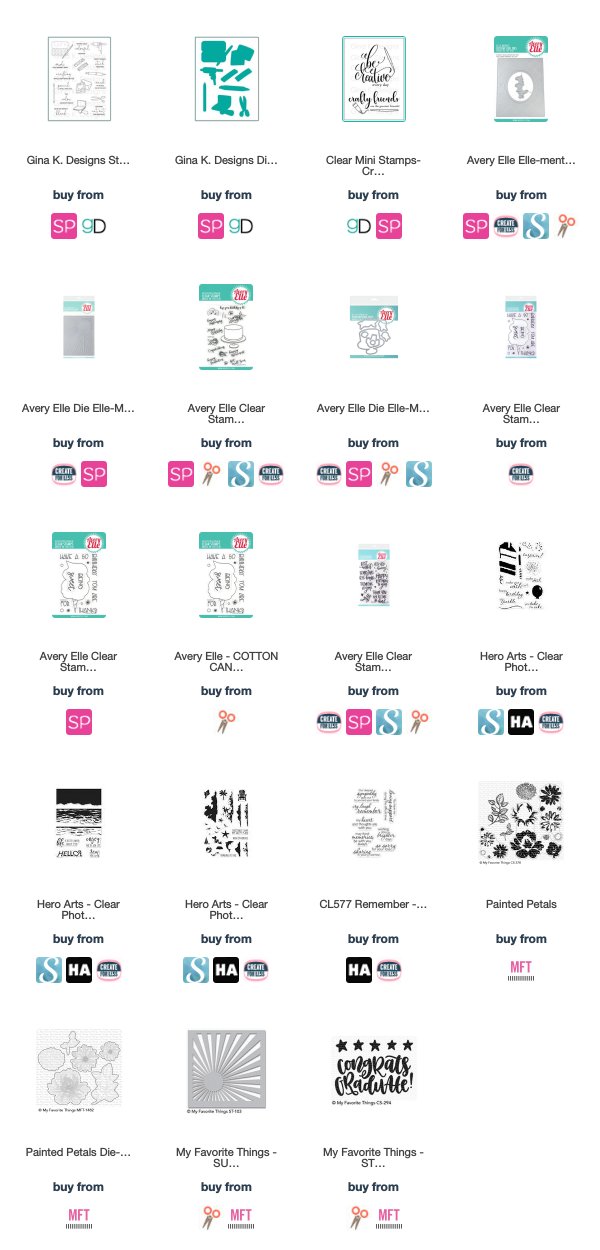 Well, I think that covers it for this month.  Let me know if you have any questions by leaving me a comment or email and be sure to follow this blog, my Facebook Page or Instagram for all the latest updates and projects.  Have a great day!
–Heidi